Every year as the holiday season begins to come to a close and we start looking forward to the New Year, there's one part of the season that approaches with equal parts excitement and dread- New Year's Resolutions. Although the prospect of taking steps to lead a more fulfilling or productive life is always exciting, the ever-present notion of just how uncommon it is to actually follow through with resolutions always puts a damper on spirits. Whether it's promising to exercise more, hoping to spend more time with family, or vowing to quit smoking, few would argue that New Year's Resolutions are a bad idea. But let's face it- in a city like New Orleans that is renowned for indulgent food and parties, sticking to certain resolutions will be harder than others. In order to get the most out of whatever goals you set, it is important to be as tactful and efficient as possible.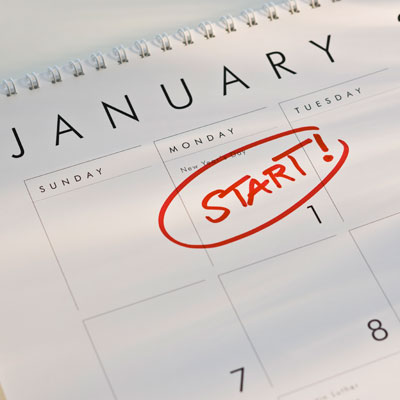 Pick What's Important to You
While some resolutions are typically more elusive than others , it's important to pick something that will impact your life in a significant way. If you are already a healthy eater, don't make resolutions to try to correct minute details of your diet. Similarly, if you sleep 8 hours every night, don't resolve to get more rest. But if you haven't broken a sweat since your high school track days, perhaps consider making exercise a higher priority addition to your life. Or if you know you haven't been following up consistently with upkeep on that new car you've just bought, try making routine maintenance checks part of your resolutions. Consider which type of resolutions will bring the most benefit to your life.
Set measurable goals
One of the most effective ways to set any goal, especially New Year's Resolutions, is to set quantifiable goals. Quantifiable goals are the difference between "I'd like to save more money" versus "I'd like to set aside $400 a month towards savings." One is hard to tell if you've done it or not. The other is simple. If you can't tell whether or not you're meeting your goals, it's harder to stick with them.
To Tell or Not to Tell?
Conventional wisdom says to tell as many people about your goals as possible so they can hold you accountable. While there may be some merit or benefit to this approach, it may not always lead to success. Some experts argue that the initial support given by friends can lead to a false sense of accomplishment  that results in less perseverance. People of New Orleans will certainly be quick to congratulate each other on setting an impressive sounding new resolution, but don't let that work against you. While you may still choose to share your resolutions with friends, be wary of the complacency it can often create.
Be realistic
If you're not a runner, don't promise to run a marathon by the end of the year. Goals that aren't realistic elicit frustration and only serve to discourage. Choose resolutions that are difficult but attainable. If it's too simple of a goal, you're really only cheating yourself.
Make sure to utilize these tips to cater resolutions that will start your year off in the best way possible!
by